Impressions from the George for Governor Campaign
To build off of Greg's piece earlier today about our experience with the Craig campaign yesterday, I attended Delegate Ron George's media availability event and campaign kickoff in Annapolis today, and the two events that were attached to each other were very different in how they were executed and received.
The media availability event was a small affair, though as you can see it was handled in a professional manner: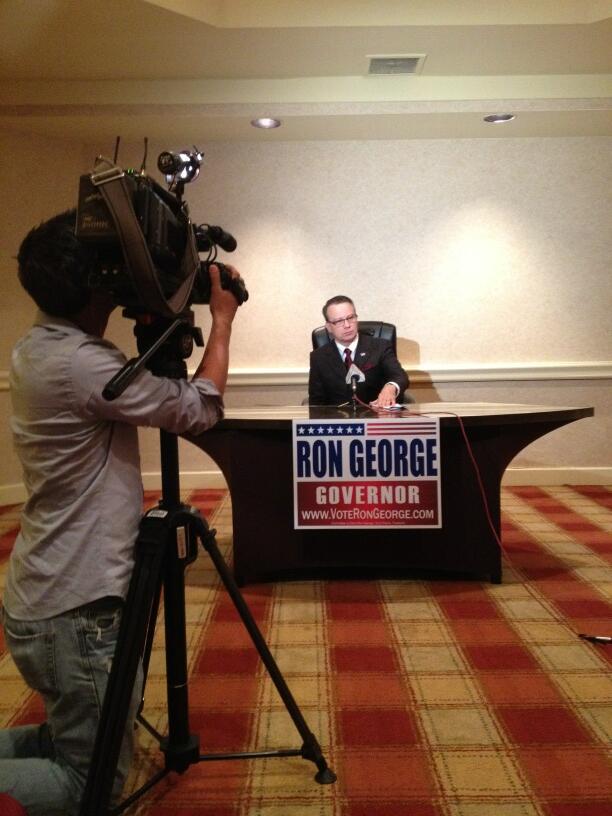 Also in attendance were Rob Lang from WBAL, Alex Jackson of the Capital, John Wagner from the Washington Post, and Len Lazarick from MarylandReport.com.
Delegate George focused mainly on his record as a delegate, and gave a preview of his ten-point plan that he will be releasing soon, which focuses on many conservative issues with which he has a lot of experience and will be the cornerstone of his campaign. Robert Lang, in a roundabout way, asked the question of electability and George talked extensively about the great number of contacts that he has made since announcing his campaign, as well as the enthusiastic response he received. The biggest story that came from this event was his recollection of a conversation he had with former Lt. Governor Michael Steele, who when George told him he planned to run for Governor, made not of his own plans to announce his campaign at the end of he year. George noted that more specific details of his policies would be discussed this fall as he toured the state on a policy swing.
Other fun fact we learned: Ron George was a soap opera actor while living in New York City, appearing on the show "
The Doctors
."
The kickoff event itself was across the hall, and attracted a pretty big crowd, at least for the size of the room that was used. The visual of the smaller room being used to compact the crowd will certainly make for a good photographic and video look and feel, though the room was in fact genuinely crowded with local activists and elected officials. House Minority Leader Nic Kipke was the master of ceremonies, and other elected officials included State Senator Ed Reilly (who pledge his personal money to George's campaign), Delegate Joe Boetler, Delegate Steve Schuh, Delegate Tony McConkey, Anne Arundel County Clerk Bob Duckworth and Register of Wills Lauren Parker, Annapolis Alderman Fred Paone, and various members of the Anne Arundel Central Committee. Former State Party Chairman Jim Pelura and his wife Marianne, as well as Faith Loudon were also in attendance.
Wide shot of the Ron George fundraiser from outside the room
Delegate George's remarks certainly put a focus on his conservative credentials, both as a fiscal and a social conservative. Special mention was made regarding job creation, lower taxes (including an innovative proposal for a 20% tax credit refunding taxpayers on the sales tax on purchases made within the state), an expanded school choice program, and policies to better promote business.
While David Craig and Ron George are cordial, the campaigns are definitely different both on their focus and their style. While David Craig is much more measured in tone, George's campaign remarks certainly were more lively, to a certain extent more populistic. This undoubtedly had a lot to do with the kickoff's focus more on "red-meat" conservative issues than the more balanced approach of the Craig campaign. That's certainly not to say that one is more conservative than the other (both have good conservative bonafides) or their ability to reach across the aisle (both have noted their ability to work with Democrats on issues of mutual agreement). But it will be interesting to see how these styles play out as the campaign continues to develop.
From tonight's event, it's clear that there is a pretty good base of support for Ron George's run. Whether or not the enthusiasm continues to build and whether or not it translates into a sustainable campaign organization and manageable financial base (George trails Craig considerably in these categories given his late start) will remain to be seen. But it is safe to say that for the first time since 1994 we have ourselves a legitimate primary contest.
---
---