MDGOP Convention Notebook
I don't have any pictures really from last night's event. Our friend Michael Swartz at Monoblogue did have his camera and I'm sure was documenting the full proceedings. Richard Cross also shares his thoughts here.
The evening started with a reception followed by the Executive Committee meeting, which I attended in my capacity as Young Republicans Chairman. There was not a lot of content necessarily shared in that meeting, though I did take the opportunity to firmly express my disappointment in the number of trips to other states that were undertaken by party and elected officials. There was a lengthy discussion of the budget which occurred in Executive Session (which I of course can't discuss) but I slipped out of the meeting at 8:50 or so to head to our broadcast position.
Our live broadcast ran from 9 to 11 in the
Strategic Victory Consulting
Suite, and if you haven't listened you really should go back and relive the revelry and the cavalcade of stars who were on the show, which included Ambassador Ellen Sauerbrey, Anne Arundel County Councilman John Grasso,
Marta Mossburg
,
Dan Bongino
,
Delegate Tony McConkey
, Tonya Tiffany from
MDCAN
, Don Murphy,
Richard Cross
, and yes
Joe Steffen
, who had a heart-to-heart with Greg near the end of the show.
Jim Jamitis
took some pictures for posterity.

Wide Shot of the Studio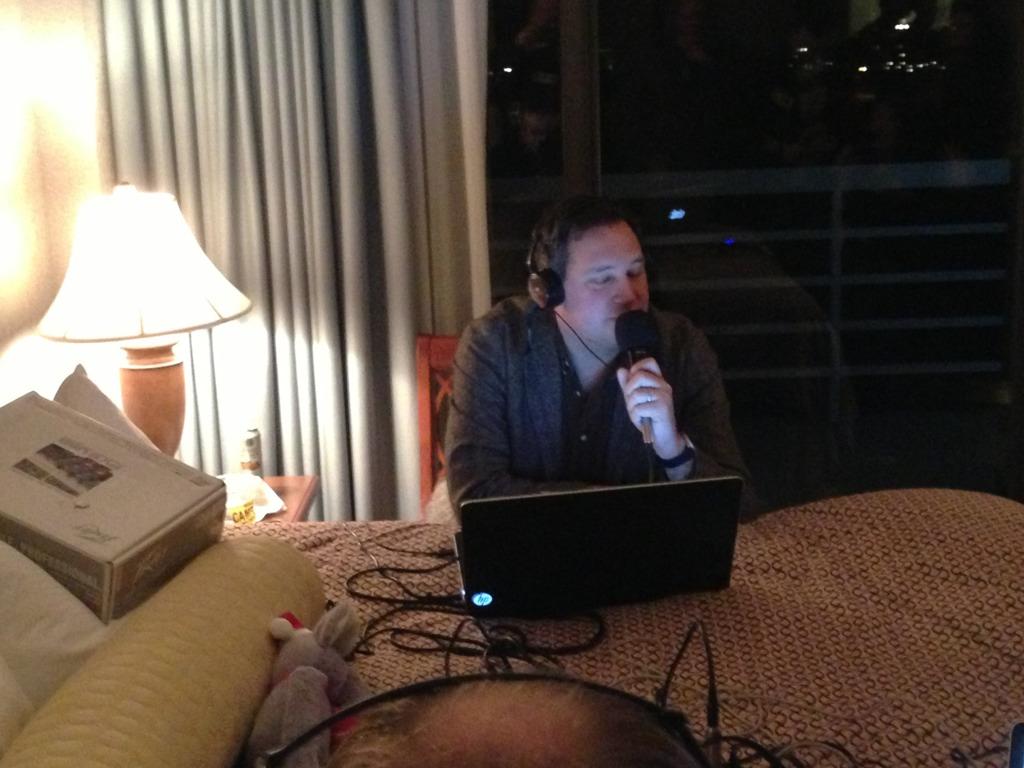 Andrew Langer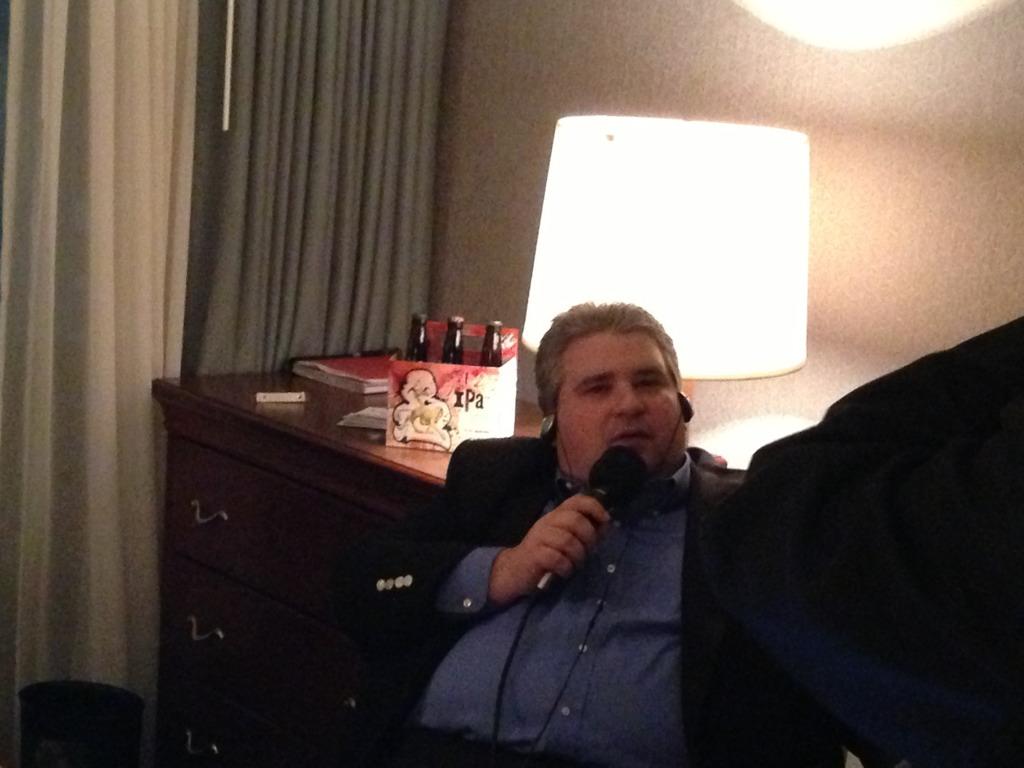 Greg Kline
From L-R: Greg Kline, Emily Grace, O.P. Ditch, Brian Griffiths, Marta Mossburg, Ryan Miner, Mark Newgent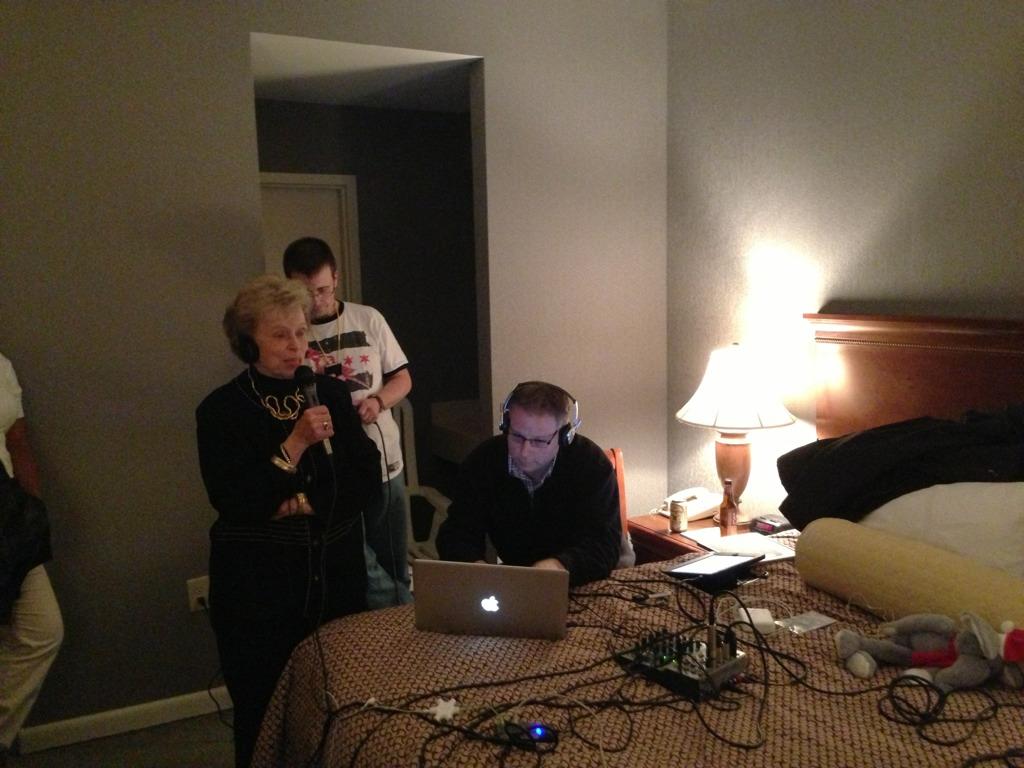 Ambassador Ellen Sauerbrey
There were other suites going on at the same time, including David Craig Blaine Young, the Montgomery County Republican Party, and a join Tony McConkey/Jerry Walker suite which included a huge stash of hostess products!
Today the dominant feature of the day was the Central Committee meeting, which mainly consisted of officer reports before moving on to four resolutions. The biggest thing of note in the officer reports was State Party Executive Director David Ferguson describing the party's new "Foundation for Our Future" plan, which is the most important thing our party has put together in a long time and is the type of forward thinking that we've needed in order to gain ground.
The first resolution was a resolution condemning Cecil County Executive-Elect Tari Moore for her
party switching shenanigans
in trying to retain control over the Cecil County Council. After some spirited debate on the matter the Central Committee bizarrely decided to table the measure instead of taking a stand one way or the other, which still led to a Baltimore Sun headline of
"Maryland GOP reject call for Cecil official to step down"
even though it was tabled and not rejected (in technical parliamentary terms).
As I noted earlier today
it would seem reasonably apparent what one's position on the matter should be, however there is a subplot here involving Congressman Andy Harris, State Senator E.J. Pipkin, and Delegate Mike Smigiel, which included this bizarre quote from Congressman Harris:
Harris, who supported Moore in a contested primary, said he had no problem with her decision to change affiliation. He said he was confident she would soon return to the party fold.
"Tari Moore is a good Republican and I think at some time she will," Harris said. "This is local Cecil County politics and, like I say, will work itself out in the end."
I'm not entirely sure how Tari Moore could be a "good Republican" when she abandoned the party for crass political gain. She certainly has lost my trust to be anything other than an opportunist.
The next two resolutions were useless resolutions, one to bring awareness to
SB 236
(Sadly the phrase Agenda 21 was used in the resolution), and the other was an attaboy to Carroll County Commissioner Richard Rothschild. I have no idea why time was spent on either resolution, but both we adopted without oppositions.
The biggest resolution of the day was Baltimore County Central Committee Chairman John Fiastro Jr.'s resolution regarding a vote of no confidence in RNC Chairman Reince Priebus and urging Maryland's RNC members to note elect him to a second term (never mind the fact that 130 of 168 RNC members have already endorsed him, ensuring his re-election). That created another very spirited debate, never mind that the resolution itself was reasonably inconsequential. Surprisingly the vote was a LOT closer that I anticipated it to be, with the resolution failing by a 223-286 vote (though take into account that with weighted voting it's almost impossible to explain how close it actually was).
So what was accomplished over the weekend? Not much.
Final thoughts:
There was no discussion in any formal venue about the status of Chairman Alex Mooney. There was no motion of no confidence in him, there was no move to remove him, nor did he indicate that he was going to step aside.
There was also very little discussion of the criticism of National Committeeman Louis Pope and the Rule 16 conflict, either. I do know that he was encouraged to address it during the Central Committee meeting, but it did not come up during his 17 minute officer report.
There is absolutely no consensus on who the candidate for Governor will be in 2014, though David Craig and Blaine Young both made impressive showings.
Next convention is in mid-April and there will be a lot of ground to cover between here and there.
---
---